Next streams
Follow @halfbyte to get realtime infos for URLs, delays, etc.
To subscribe to the upcoming shows in your calendar, use this iCal link.
half/byte streams music.
23 Jul 2020 20:00 CEST
half/byte & NERDDISCO
13 Aug 2020 21:00 CEST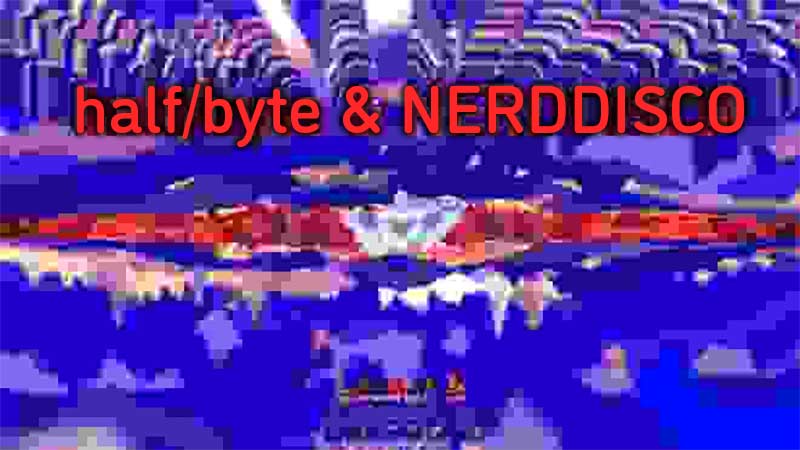 A monthly stream with visuals from NERDDISCO and music (and sometimes a bit of a ramble) by half/byte.
Streamed on Twitch.
Past streams
half/byte & NERDDISCO
09 Jul 2020
In which Jan had to vent his frustrations about the "Kohleausstiegsgesetz", a law recently passed in germany that will cement our inability to hold the goals set by the Paris Agreement.
More infos in the supplementary article.
half/byte solo 25th of June 2020
25 Jun 2020
Dub vibes, techno basslines, lots of reverb. Slightly melancholic summer jam.
half/byte & NERDDISCO: #BLM
04 Jun 2020
Our try to do something meaningful to boost the black cause.
More infos here.
half/byte & NERDDISCO @ Ausgangssperre2, Peng
16 Apr 2020
half/byte & NERDDISCO - STAY AT HOME!!!
26 Mar 2020
This is a short one, as we messed up scheduling and I had to rush home.
NERDDISCO feat. V/A - Ausgangssperre Peng
21 Mar 2020
half/byte & NERDDISCO - Lesson 2
12 Mar 2020
half/byte & NERDDISCO - Lesson 1
09 Jan 2020